On October 10,2000, my family received a disturbing phone call from my nephew.
Sandi had been beaten, and was not expected to make it. My parents, my 2 other sisters, and myself, traveled to KY to be by her side. Upon arriving, we were given the gruesome details of the attack.
The man who had done this, was furious with Sandi for breaking a date with him. He had made my nephew call her at work to come home. When Sandi got home, the man jumped out of the bushes, knocked her to the ground, and caused her to hit her head on a "car stop" bumper in the parking lot. This caused tremendous swelling to her brain. She underwent to cranial operations before we had arrived. The 2nd, they would remove the entire left side of her skull, to relieve pressure on the brain. Sandi would remain in a coma for the next 8 days.
On October 18th, the option was handed to my family, to remove the life support from her frailing and lifeless body. Within hours, Sandi's life had been taken from us.
Almost 1 year to the date, the man (KEVIN LEE UNDERWOOD) who had taken her life, would be captured in Ohio. By words from his own mouth--"I am wanted for murder in Louisville, KY", would the arresting officers discover that this man was a cold blooded killer. He was given 20 years in prison without the possibility of parole. He will be released in 2023.
We miss you Sandi!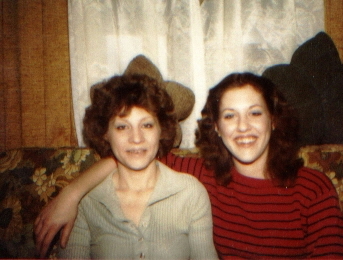 Mom and Sandi